The Best New Ram Trucks to Hit the Market in 2018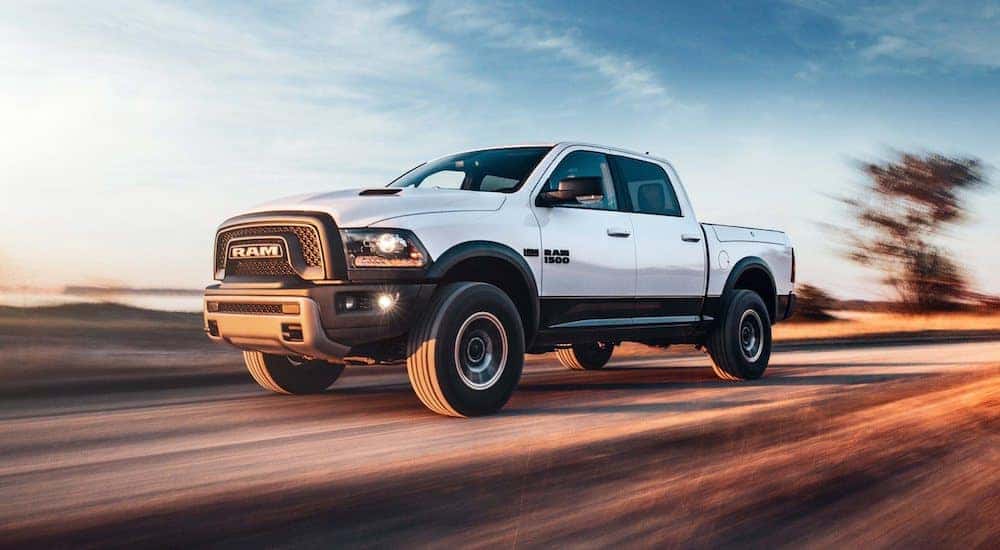 When it comes to power and performance, there's no better vehicle than a Ram truck. The Ram brand is known for its superior capability, aggressive style, and impeccable durability. If you're looking for a new truck in 2018, then you can't go wrong with the Ram brand – a brand dedicated entirely to truck models. You can trust that any vehicle you purchase from Ram is going to be one with decades of experience to back it up.
We'll take a look at the 2018 Ram Truck Lineup: the Ram 1500, the Ram 2500, and the Ram 3500 and reveal why these truck are the best vehicles to hit the market in 2018.
The Ram 1500
The Ram 1500 comes replete with a number of awards and accolades including The Best Family Pickup Truck of 2017, The Highest Overall Interior Score of 2018, 2018 Luxury Pickup of Texas, and a Consumer Digest's Best Buy Award, to name just a few. If these awards don't convince you, then take a look at the specs below, we're positive they'll want to make you look at this Ram truck twice.
Specs and Performance
The Ram 1500 is available with three different engine options: the 3.0L EcoDiesel Engine, which delivers best-in-class fuel efficiency at 27 mpg on the highway and gets 240 hp and 420 lb-ft of torque. The 3.6L Pentastar Engine, which provides 305 hp and 269 lb-ft of torque and the 5.7L HEMI V8 Engine, which offers spectacular power with 395 hp and 410 lb-ft of torque. With a towing capacity of 10,600 lbs, this truck is less a light duty pickup and more high-powered, indomitable machine.
When it comes to trailering performance capabilities, this Ram truck is available with many convenient high tech features to make the towing process that much smoother. The Ram 1500 offers Hill Start Assist, which will keep the brake on before you accelerate when you are on an incline, an integrated trailer hitch which smoothly connects your truck frame to your trailer, and trailer sway control, which will automatically apply the brakes if trailer swaying is detected. Designed to make your driving experience smoother and safer, this Ram truck is a top-of-the-line vehicle with the performance and high tech features to beat out the rest in the truck market.
Interior Features
There's a reason the 2018 Ram Truck won the luxury pickup and Highest Overall Interior award of 2018 – this vehicle has got some serious interior style. With luxury black leather seating, black finishes, and a top-of-the-line command center, this is a Ram truck you just aren't going to want to get out of.
The Command Center includes an 8.4-inch touchscreen display, which includes Apple CarPlay, Android Auto, GPS navigation, and hands-free calling. With an available nine-speaker audio system, a number of interior designs to choose from, including black, wood accents and Rebel red and black leather seats, this is a vehicle you can customize to truly make your own.
The 2018 Ram 2500
The 2018 Ram 2500 is the next step in heavy-duty pickups. With astonishing capability and an aggressive and stylish exterior, this is a great vehicle for your commercial business or for personal, everyday use.
Specs and Performance
This Ram Truck has three engine options, including the 5.7L HEMI V8 Engine, the Heavy-Duty 6.4L HEMI V8 Engine, and the 6.7L Cummins Turbo Diesel I6 Engine. The last engine has the best performance capabilities, delivering 370 hp, 800 lb-ft of torque, and an astonishing towing capacity of 17,980 lbs.  Whatever your utility needs may be – hauling cargo to your work site, or towing a boat to the lake, this Ram truck is ready to handle anything you may throw at it.
The 2018 Ram 1500 also has a number of impressive features to make that towing capability even better. This Ram truck is equipped with a five-link coil rear suspension to reduce overall friction without sacrificing any towing capacity. In addition, this vehicle is also equipped with a three-link front suspension to deliver a cushioned ride, and rear auto-level air suspension to maintain a level load. The engineers at Ram thought of it all with this vehicle, and whatever your needs may be, this Ram truck has you covered.
Exterior
Like any Ram truck, the 2018 Ram 1500 exterior is bold and aggressive. The grille is chrome with a dynamic and attention-grabbing aesthetic. From the sleek chrome accents to the large steel bed, this is a car that's going to impress on the streets.
The 2018 Ram 3500
If heavy-duty hauling is what you have in mind, then there's no better vehicle out there to get the job done than the 2018 Ram 3500. With some spectacular specs and performance capabilities, and with a massive hauling capacity, this is a Ram truck that seriously can't be beaten.
Performance Capabilities
As the most powerful Ram truck in the 2018 lineup, this is a vehicle that's going to get you places. The 2018 Ram 3500 is equipped with two engine options, the Heavy-Duty 6.4L HEMI V8 Engine, which delivers 410 horsepower and 429 lb-ft of torque, and the unbeatable 6.7L Cummins Turbo Diesel I6 Engine which delivers 385 hp, 930 lb-ft of torque, and a massive best-in-class towing capacity of 30,000 lbs. With this state-of-the-art engine and performance capabilities, no trailering job is out of reach.
With heavy duty hooks and a tow/haul mode capability, as well as a snow chief package, this is a Ram truck made for any weather, all terrain, and any heavy duty payload requirements.
Interested in taking these Ram trucks out for a spin? Give Frank Kent CDJR a call today – we'll be happy to help you! With best-in-class capabilities and the accolades to back it up, these Ram trucks are the ultimate, unbeatable, work machines that'll impress any truck buyer.