The Best in Ram Trucks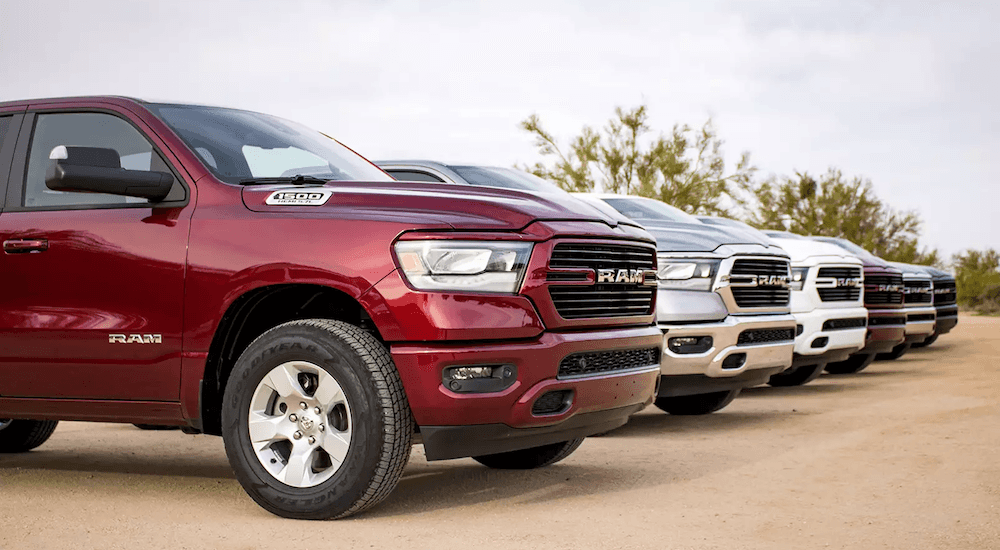 When you hear the name Ram, one thing probably comes to mind – big, bold trucks. And it's no surprise that Ram has that kind of reputation. These trucks were designed and manufactured for real truck fans. With the best-in-class performance, tow and haul capacities, cargo flexibility, and cutting-edge safety and communication technology, Ram trucks are the best at what they do. Whether you want a light-weight, mid-weight or heavy-duty truck for work or for play, Ram trucks will get the job done, and then some. Your Ram dealership has all the information you need to shop for and select the perfect Ram for your lifestyle
Built Tough
What makes Ram so tough? What makes Ram owners so loyal?  Just ask any of the staff members at a Ram dealership, and they will probably tell you a few of these things.
 2017 Ram 1500 won the Consumers Digest Digital Best Buy Award
Ram 2500 is Edmunds 2016 Best Retained Value Vehicle
Frame strength of 50,000 psi for stiffness and strength.
5-year/100,000-mile diesel powertrain limited warranty
WardsAuto 10 Best Engines for 2016 (The only light duty truck engine to win this award)
Cargo, Tow, and Haul Capability
With the best in class towing and hauling maximum, Ram has no trouble getting the job done. Whether you opt for the light-weight 1500, the mid-weight 2500 or the heavy-weight 3500, you will not be lacking in real truck power.
Ram 1500
The Ram 1500 comes in six available trims; Laramie, Bighorn, Tradesman, Limited, Laramie Longhorn, and Rebel. The Ram 3500 Tradesman can tow the most, coming in at a whopping 21,400 LBS. But don't let the lightweight members of the Ram line-up pass you by if that's what you are looking at. The Ram 1500 can tow a max of 8,590 LBS, which puts it at the top of its light-weight pickup class for towing.  Ram owners are more likely to trade their old Ram in for a new one.  While many companies see a decrease in customer loyalty, Ram continues strong due to their customer first approach to design and fabrication.
Available Performance Highlights
One of the highlights of the Ram line-up is the air suspension features on the Ram 1500 that are exclusive to this truck in its class. In fact, Ram offers drivers one of the best and most comfortable pickup truck rides on the truck market today. Not necessarily something drivers would expect from such a powerhouse of a truck, but it is nevertheless a very pleasant surprise. With available V6 and V8 engines, well-paired transmissions, and towing and hauling capabilities that are the highest of the brand thus far, Ram trucks bring the very best to their class. Your Ram dealership can explore performance combinations in depth with you so that you can get the full scoop of what Ram truly has to offer.
A Ram Truck Combination for Everyone
Truck drivers know what they need and want in their vehicles. This is just one more reason that Ram sits on the top for drivers. With multiple available trims, powertrain combinations, bed lengths, and cab styles, Ram trucks have something to fit every driver's needs. Whether your Ram truck is intended as a work truck, or as a weekend gear hauler, drivers will not be disappointed. There is a Ram truck custom combination that is perfect for your lifestyle, whatever your truck needs may be.
Safety
Of course, drivers want amazing power and tow and haul capability out of their truck. But let's not forget about safety. Safety is always important, in any vehicle, doubly so when you are hauling and towing heavy weight along with you. Power haulers need additional driver alerts and safety technology to be sure they know what vehicles, pedestrians, and objects are in their surroundings. They also need to be able to have great control over whatever it is they are towing and hauling. Your Ram dealership will surely tell you about some of these great driver assist and safety features that are available and standard for current Ram trucks in each model and trim. The Ram has a child-seat friendly crew cab that is easy to attach with an extra latch for added security. The Ram also comes in well in side impact safety scores during crash tests compared to others in its class. In the area of active safety features, parking sensors for both the front and the rear of the truck are included in many trim levels, which is a much-needed feature when considering the Ram's ability and frequent use for towing large hauls. The backup camera offers drivers, even more, control over their surroundings when navigating their vehicle and their haul.
Visit your Local Ram Dealership
Impressed? If you're a truck aficionado, you definitely are! Take a look online and see what your local Ram dealership has to offer, from the lightweight 1500 to the heavyweight 3500, there is definitely a Ram truck that is perfect for whatever your truck needs are.
Once you have your sights set on a Ram, head to Frank Kent CDJR to get started finding your perfect truck. Your Ram dealership will start by identifying your preferences and getting to know what it is you really want out of your truck. Next, your Ram dealership's customer service experts will guide you through their inventory, showing you the trucks they feel match your needs. Find something you love? Of course, you did. Now it's time to purchase your dream truck. The finance experts at Ram dealerships will help you secure the best lease, loan, or in-house financing that fits your budget as well as your credit situation.
So, stop by Frank Kenk CDJR, your local Ram dealership today and get ready to drive away with the truck you've always wanted!