Ram Trucks and Rural Roads: No Better Pair Since Biscuits and Gravy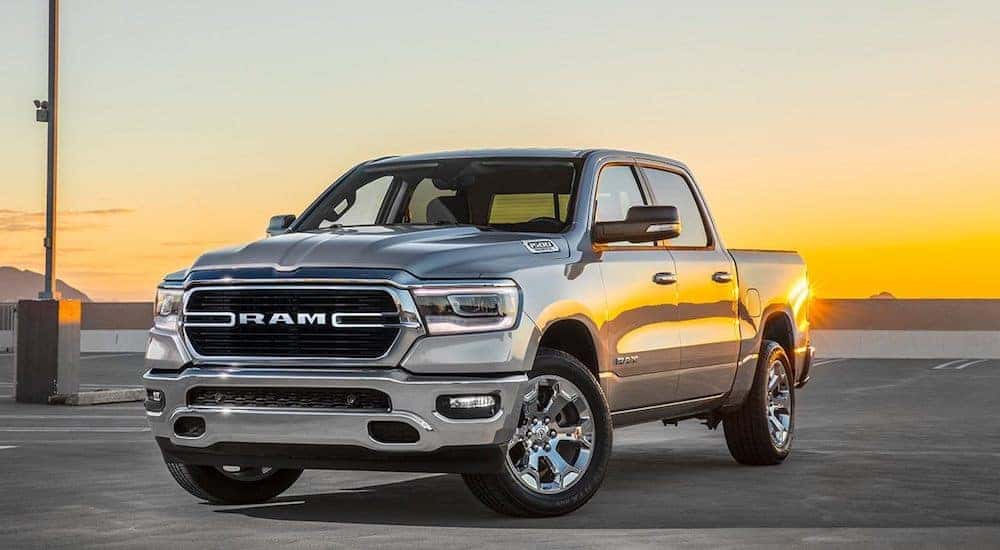 Living in a rural area, you will want to have a vehicle that is reliable, sturdy, bold, and versatile. The reason for this is because the countryside often has rough rural roads that can easily beat down any vehicle not strong enough to beat it down first. There are no doubt many trucks are suitable for a rural lifestyle, but none quite so well-suited as Ram trucks.
Rural Living
While living the rural lifestyle is humble and freeing, there are a lot of factors you must take into account when it comes to your transportation needs. While those in urban areas need vehicles that are easy to handle, eco-friendly, and ideal for short distance commuting, those in rural areas need vehicles that are basically the complete opposite.
Country roads are tough and can easily wear down any less than reliable vehicle that attempts to take it on. All you have to do is spend a week driving them to discover how easily your precious vehicle can become scratched, stained, and stunted when forced to compete with the raw natural pathways the country is known for. You will also notice that when you live in the countryside, nothing is really right down the street, you will be commuting roughly 10% of your day. This means fuel economy will be a big issue and having a vehicle that is efficient enough to handle the mileage it is a must. Pickup trucks are known for having legendary longevity and impervious body structures that are designed to keep them running harder, longer. These days trucks are even becoming more fuel efficient with fuel flex and diesel options that will keep your mileage down. Another factor is that rural living often requires a lot of heavy lifting and hard work, which trucks were born to help with.
What city-culture prioritizes is not the same as what the county-culture prioritizes, and that is why instead of tiny hybrid sedans, you will see rural residents investing in commanding pickup trucks that are made to last in any condition.  It's two different worlds and Ram trucks are made for the country world.
Ram Benefits
Now that you understand why pickup trucks, in general, are the ideal for rural roads and rural living, you will want to understand which of the many brilliant truck brands will work best. Sure Chevy has their work trucks, and Ford is a powerhouse, but if you really want a truck that you can depend on to blend in seamlessly with rural living the only correct choice is a Ram truck. Ram trucks were manufactured to be aggressive pieces of machinery that flawlessly blend rugged toughness with chiseled charm in order to create a series of pickup trucks that are 100% grit.
Ram as a manufacturer only produces trucks and vans making them professionals in this category. While many other brands are busy producing an assortment of sedans and SUVs on top of their truck lineup, Ram is focused on what they know best and do best. This is a sign of passion for the art of truck craftsmanship and shows that they are the ones to go to if you consider yourself a true truck enthusiast.
When it comes to style Ram trucks are all about boldness and efficiency. With their massive top-grade steel bodies and imposing grille designs, no one can ignore or help but be impressed by these beastly machines and you'll notice the onlookers from behind the wheel. At the end of the day though, the looks are just a visual representation of what Ram trucks have to offer.
Whatever the elements have in store for you Ram trucks will be able to handle them with seamless effort. As a complement to its sturdy exterior, Ram trucks are fitted with Hemi engines. Hemi engines are designed to take advantage of cylinder pressure by burning hotter in order no leave fuel wasted and get as much energy as possible out of your truck. This also allows for massive towing and hauling potential to be unleashed. With power like this, you should have no issues as you travel the countryside and begin to feel at one with the truck, the road, and the power that you're emanating.
Setting the benchmark for what it means to be a strong and durable truck with nearly limitless potential, Ram trucks are truly at the top of their class, making them ideal rural companions.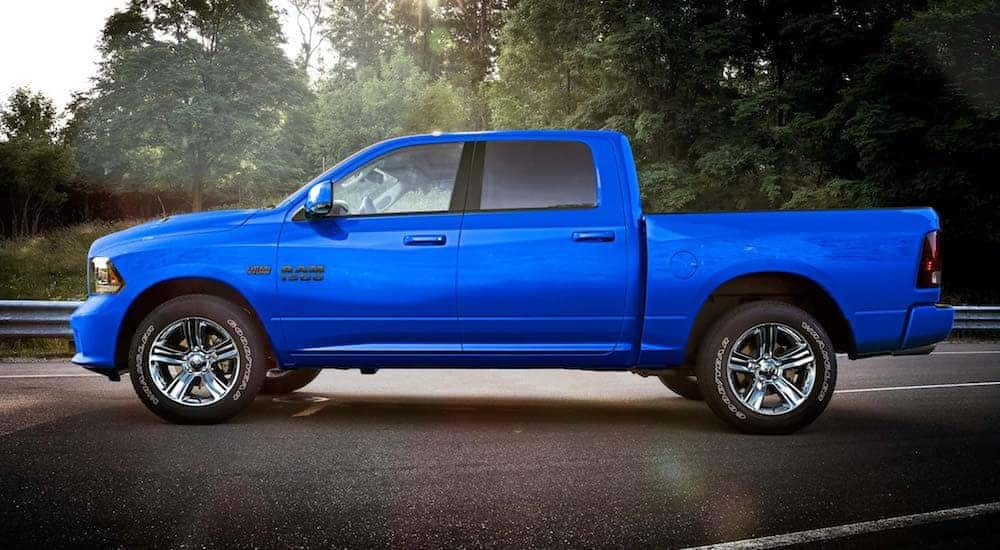 Ram Trucks
Following the rural philosophy that straightforward and humble is the best approach in life, Ram trucks are named with no flashy monikers that make them sound like animals or forces of nature. Ram trucks are proud enough of what they can produce to go be their own namesake and allow what they are to be the symbol that defines them as a vehicle of strength and efficiency. Whether you need a light-duty truck for general purposes or heavy-duty power for a more strenuous lifestyle, Ram trucks are ready to provide you with the support you need. Here is a peek at what commanding lineup Ram has to offer its rural residents:
2019 Ram 1500 Light-duty truck
The smallest of the group, the Ram 1500 is an efficient light-duty pickup truck that allows drivers the freedom to experience all life has to offer.
MSRP: $31,795
Dimensions: 229-233″ L x 82″ W x 78″ H
Horsepower: 305 to 395 hp
Torque: 269 to 410 lb-ft
Max Towing capacity: 12,750 lbs.
2018 Ram 2500 heavy-duty truck
The Ram 2500 is a heavy-duty truck that offers a stunning design that is as practical as it is strong.
MSRP: $33,045
Dimensions: 230-259″ L x 79-80″ W x 76-81″ H
Horsepower: 350 to 410 hp
Torque: 400 to 800 lb-ft
Max Towing capacity: 17,980 lbs.
2018 Ram 3500 heavy-duty truck
The Ram 3500 offers drivers a sense of strength they never believed possible before with its bold design and seemingly limitless performance output.
MSRP: $34,445
Dimensions: 230-259″ L x 79″ W x 78-80″ H
Horsepower: 350 to 410 hp
Torque: 400 to 930 lb-ft
Max Towing capacity: 31,210 lbs.
Frank Kent CDJR
Deep in the heart of Texas, you will find the Frank Kent CDJR Dealership. We are a dealership made for those that desire to experience the most out of life and want a vehicle that can make that happen. Buying a truck should be something to get excited about, but the buying process can often drain away all that enthusiasm as it consumes your times and forces you to deal with a number of frustrating tasks. At Frank Kent though we offer as much help as possible in order to complete the process with speed and efficiency based on your needs. We are happy to take on as much of the burden as you are willing to trust us with, whether that be aiding in research or simply being a friendly voice to bounce ideas off of. At Frank Kent, we understand each driver is unique with their own sense of style and their own take on life, and that is why we are determined to offer you a personalized service experience that is customized to your needs. So whenever you are in need of a pleasant, passionate, and personalized truck-buying service experience, come check out Frank Kent CDJR online or in person.