Opt for the 2019 Jeep Grand Cherokee…Even If You're on a Budget – Ennis, TX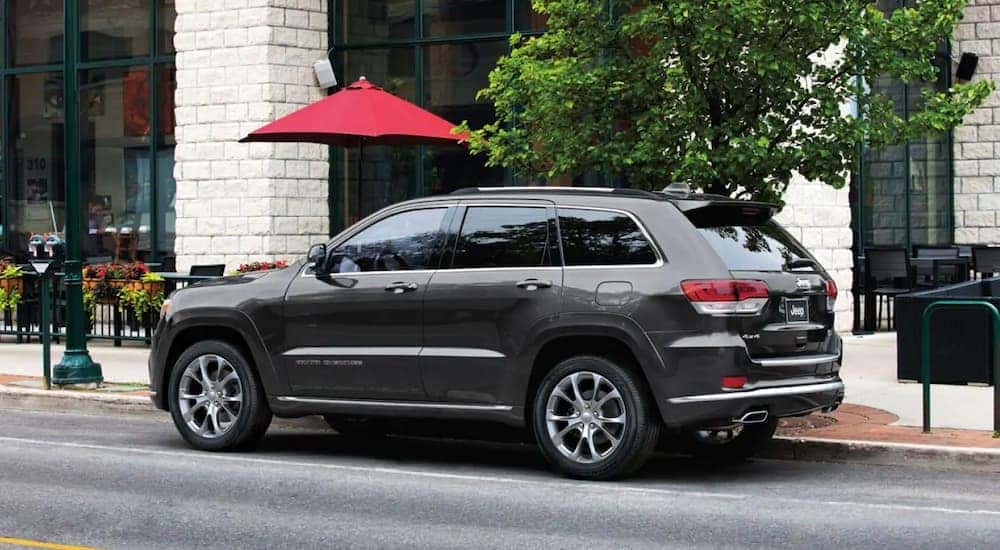 For many, the 2019 Jeep Grand Cherokee would appear to be unaffordable. However, if you switch your focus to Jeep lease deals, you'll quickly realize that driving the vehicle is a distinct possibility.
There are naturally a number of financial incentives that accompany Jeep lease deals. For starters, customers aren't required to pay the same down payment nor monthly payments. Furthermore, they won't be forced to tolerate any of the vehicle's depreciation. Perhaps best of all, when your contract has ended, you can easily upgrade to a much newer SUV.
Clearly, it's relatively easy to get your hands on a 2019 Jeep Grand Cherokee, even if you're on a budget. However, we wouldn't blame you if you previously ignored the vehicle due to budgetary concerns. Fortunately, we're here to help. Below, we've explored some of the major attributes of Jeeps' premier SUV.
Performance
Power and the Jeep Grand Cherokee go hand-in-hand. The nameplate has always been known for its muscular power, and this year's rendition of the nameplate is no exception.
The two available engine offerings that accompany the 2019 Jeep Grand Cherokee deliver some of the best power specs in the entire industry. For instance, the hulking Supercharged 6.2-liter supercharged V8 engine on the Trackhawk cranks out an astonishing 707 horsepower and 645 pound-feet of torque, all leading to a 7,200-pound towing capacity. These specs also play a role in the incredible 3.5-second 0-to-60 time, as well as the 11.6-second quarter-mile time. These are numbers that are often reserved for racing speed cars, not huge SUVs.
Meanwhile, the 6.4-liter SRT V8 engine provides more of a nimble ride, but the system still doesn't disappoint with 475 horsepower and 470 pound-feet of torque. Accompanied by Brembo brakes, this system will deliver the athletic, sleek driving experience that you may be seeking. The eight-speed automatic transmission also comes with five different Drive Modes, including Auto, Sport, Track, Snow, and Tow. That way, no matter the driving scenario, you'll be more than ready.
Of course, the 2019 Jeep Grand Cherokee offers so much more than unmatched power. Rather, engineers included a number of additional mechanical amenities that will have a positive influence on drivability. The Jeep Quadra-Trac Active On-Demand 4×4 System (available on the SRT and Trackhawk) version will promise unmatched traction in any driving situation, while the Standard Launch Control (on the SRT and Trackhawk) will provide drivers with that extra boost. There's even a performance monitor that's accessible via your Uconnect touchscreen. Thanks to this inclusion, you can constantly monitor all of your vehicle's performance intricacies.
Interior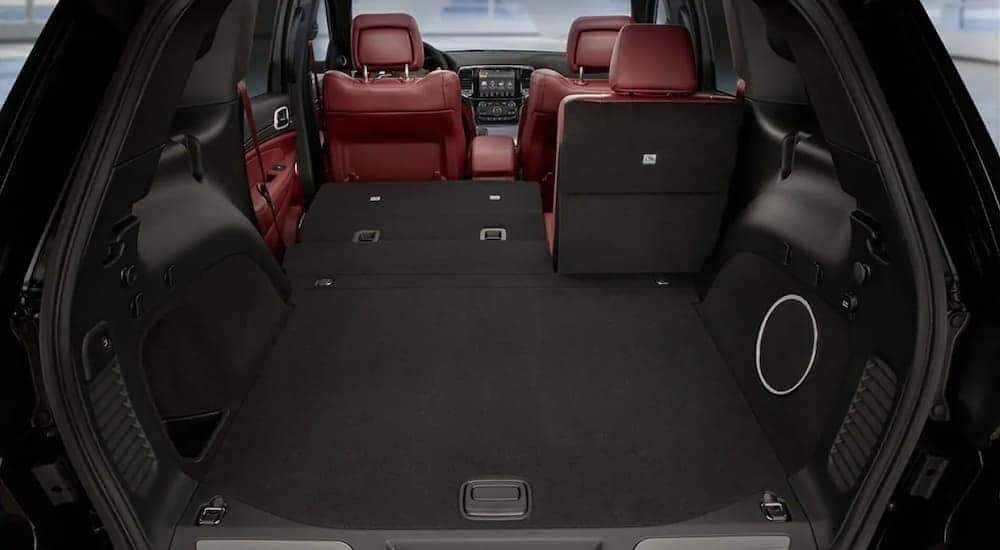 The interior of the 2019 Jeep Grand Cherokee is equipped with all of the technological amenities you could possibly need for a pleasant and enjoyable driving experience. These amenities will serve as your personal concierge, providing you with an optimal commute or journey.
It starts with the brand's 8.4-inch touchscreen, which includes the innovative Uconnect 4C Nav technology. Thanks to this inclusion, drivers can easily access whatever application they'll need during their journey, including an intuitive navigation system. The unit also includes Apple CarPlay and Android Auto compatibility, allowing the driver to stay on the grid at all times. If you're going to be relying on your smartphone to listen to your favorite tunes, then you should also consider opting for the available Harman Kardon Premium Audio System, which promises an incredible listening experience via the 19 speakers and 10-inch subwoofer.
The technology doesn't end there, as there are also amenities that will improve the actual driving experience. The innovative seven-inch full-color Driver Information Digital Cluster Display showcases important information right in front of the driver, meaning operators won't have to squint in order to view their speed, navigation, or active safety features.
Of course, engineers are also focused on keeping you and your passengers comfortable, and their various comfort amenities will be appreciated during any time of year. The heated front seats and heated steering wheel will be especially useful on cold days. Meanwhile, the CommandView Dual-Pane Panoramic Sunroof and ventilated front seats will keep you cool and comfortable during those scorching summer months.
Finally, to top it all off, the 2019 Jeep Grand Cherokee also promises a whole lot of interior space. The vehicle delivers a spacious 36.3-cubic-feet of space behind the second row, but this can be increased to 68.3-cubic-feet of space when all of those rear seats are hidden. Fortunately, engineers made it incredibly easy to clear up space to that maximum cargo room. Thanks to inclusions like the 60/40 split-folding rear seats, you'll never have issues rearranging your interior to accommodate your cargo.
Safety
Jeep's vehicles are often known for their off-roading prowess. Even if you're not much of an adventurer, we're sure you're going to occasionally test the limits of your brand-new ride. Fortunately, regardless of how you intend to utilize your new SUV, you can rest easy knowing that the nameplate is equipped with a long list of safety functions.
Ultimately, the 2019 Jeep Grand Cherokee's safety functions will serve as the driver's co-pilot. For instance, the Blind Spot Monitoring system and the Rear Cross Path Detection will provide the drivers with those much-needed extra set of eyes, while the LaneSense Lane Departure Warning (with Lane Keep Assist) assures that the driver is maintaining their intended path.
The Adaptive Cruise Control (with "Stop") is an appreciated function, as drivers can take a brief break from driving without completely compromising safety. The vehicle is also equipped with a Full-Speed Collision Warning (with Active Braking). That way, if a collision appears to be imminent, the vehicle will do everything in its power to prevent or lessen the impending impact.
There are even amenities that will prove to be invaluable in parking lots, thus reducing those pesky fender benders. The Parallel and Perpendicular Park Assist will guide drivers into any tight parking spots. Meanwhile, the appreciated Parkview Rear Back-Up Camera assures that drivers can constantly monitor everything that's happening around their SUV.
Of course, if you do find yourself in an accident, there's no need to worry. After all, all of Jeep's vehicles are built to take a beating, and the 2019 Jeep Grand Cherokee isn't an exception. The seven standard airbags are intended to prevent injuries, while the high-strength steel chassis could keep dangerous energy away from occupants.
We know we didn't need to do a whole lot to convince you that the 2019 Jeep Grand Cherokee is the ideal choice. However, now that you're fully convinced that it's a good idea to lease your new SUV, it's time to start shopping around for the best deal!
If you live in the Ennis, Texas area, then you shouldn't be visiting anywhere else but Frank Kent CDJR for your Jeep lease deal. The dealership's team will help guide you throughout the entire process, assuring that you're able to afford each of your impending monthly payments. Plus, thanks to the service department, you can rest easy knowing that you're in good hands if your Jeep ever runs into any issues.
If you're ready to lease your new Jeep SUV, then head out to Frank Kent CDJR today. Before long, you could be cruising off the lot in a brand-new 2019 Jeep Grand Cherokee.