Jeep Wrangler Sees Big Changes in 2018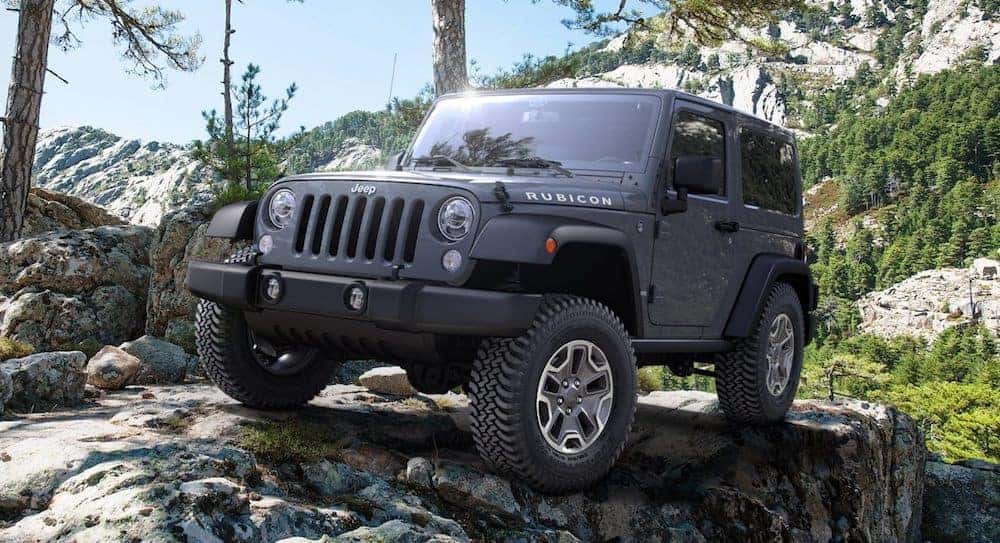 Fans of the Jeep Wrangler have been waiting for the reveal of the new, completely redesigned Wrangler since word broke in the automotive world. Thankfully, the 2018 Jeep Wrangler is finally here and it does not disappoint. Once you see this beauty at your local Jeep Dealership, like Frank Kent CDJR, you will need to know more about it. Here's a look at a few of the changes that you can expect to see from this classic Jeep 4X4.
What's New for the Wrangler in 2018?
2018 ushered in huge changes for the classic Jeep Wrangler with a full redesign. Many are sighting the Rubicon to be the very best example of the Jeep Wrangler Brand. While there was a significant redesign on the Wrangler for the 2018 model year, Jeep knows how much Wrangler fans love the styling of the classic Wrangler, so drivers shouldn't expect too much of a shock when it comes to styling. Slight shifts leaning toward retro feels are mainly what might get noticed most of all. But on the whole, the Wrangler remains iconic in its styling, even after its full redesign. When you visit your local Jeep dealership at Frank Kent CDJR ask your salesperson about the 2018 Wranglers. You're sure to be impressed by all it has to offer in the line of upgraded features, while it remains the classic Jeep Wrangler drivers love.
Most Impactful Changes
Some of the changes that make the biggest difference are exterior and interior changes, some affect performance, and some are very slight but still make an impactful impression. A repositioning of the still round headlights on the outer edges of the front grille is reminiscent of the 80's Jeep CJ, and the leaned-back front grille reminds Jeep enthusiasts of one of the YJ models from the late 1980's through mid-nineties. These vintage touches bring a great look to the Jeep Wrangler that fans of this SUV love and have loved for generations. The 2018 Jeep Wrangler four-door model has fully removable doors as well as a fully removable roof – perfect for those weekend adventures.
Highlights from The New 2018 Jeep Wrangler
Jeep dealerships were pleased with the arrival of the completely redesigned version of the Jeep Wrangler this year. When it arrived, there were features that both critics and drivers alike couldn't help but be impressed with. Here are a few favorite highlights from the 2018 Jeep Wrangler redesign.
Options – The redesigned Jeep Wrangler gives drivers the option of two doors or four doors and is also available in a hard or soft top. These interchangeable options give Jeep drivers a lot of options when it comes to customizing their Wrangler. One thing is certain though, whether drivers go for the hard or soft top, two or four doors, they will be driving one of the most attractive off-road champions around.
Removable doors remain on this redesign – This was a great leave-alone for Jeep Wrangler fans, The removable doors are quintessential and fans of the Jeep model were pleased that the company left this unique feature as-is during the redesign process. This seems to have been the theme with this year's redesign. Jeep kept a lot of the classic features and style that Jeep fans love, but added quite a few small, yet impressive, changes.
A few extra high-tech and lux features appear on board – Drivers will appreciate the upgraded UConnect infotainment system on board the new Jeep Wrangler. Jeep also added heated seats and dual-zone climate control features to the new design. Other new interior features on the 2018 Wrangler include a new seat design with lumbar adjustments, more legroom in the back for passengers, and a more comfortable armrest.
A whole new model – While not exactly the Wrangler, it's now pretty clear that Jeep will be releasing a Wrangler pickup. Critics and those in the automotive industry suspect that the all-new truck will be unveiled late in 2019. With the Jeep Wrangler's classic styling and rugged off-road reputation, it sure to be an instant classic and hit among die-hard Wrangler fans and first-time customers.
Interior features on the Sports, Sahara, and Rubicon come in a variety of color and fabric choices. Depending on the model you choose, Drivers can pick from tan or black cloth, premium cloth, or leather trimmed seating. There is also an option of leather wrapped dashboard to take the interior of the 2018 Jeep Wrangler to a whole new level. A newly updated navigation system paired with an 8.4-inch touchscreen control panel round out the newly designed interior features. Ask your Jeep dealership at Frank Kent CDJR about the many more interior features that are available on the new 2018 Jeep Wrangler models.
Check Out the New 2018 Wrangler at Your Local Jeep Dealership
Overall the 2018 Jeep Wrangler maintains its rugged off-road capability and classic iconic style while adding a few new features that upgrade the iconic vehicle and make it a little more lux and a little more tech savvy.
Want to check out the newly redesigned Jeep Wrangler? Head over to your local Jeep dealership, like Frank Kent CDJR, and see what current sale and lease incentives we may have going. Let our team of certified and qualified Jeep experts answer any questions that you may have and guide you through our vast selection of high-quality Jeep vehicles. Once you have found the perfect Jeep to fit your unique lifestyle and budget, our finance team at Frank Kent CDJR will be at the ready with financing options that best fit your situation, whether it may be a loan or lease. Even customers with less than perfect credit can feel confident that our finance experts will utilize every resource available to us to secure you with the financing you need to purchase your ideal vehicle. So when it's time to check out the 2018 Jeep Wrangler, head over to Frank Kent CDJR and let our knowledgeable staff help you get started!