How to Make Your Own Off-Road Ready Vehicle – Ennis, TX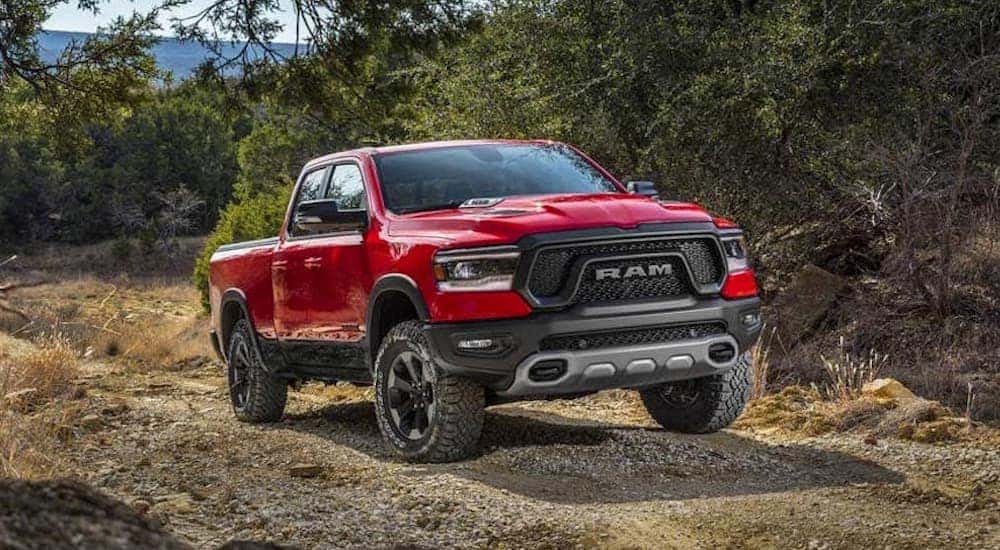 So you want to go off-roading. You're not alone, off-roading, and off-roading culture is stronger than ever. And this is for good reason too. Off-roading is a fantastic way to experience nature, and if done right can take you to some of the most untouched corners of the world. That said, off-roading shouldn't be taken lightly. While the activity can be thrilling, if you're vehicle isn't ready to take on the dirt, you can very quickly find yourself stranded out in the middle of the wilderness. Getting your car ready for your next off-road adventure, though, is easier than it sounds. There are a wide range of things you can do to prep your vehicle for the journey, and our team at Frank Kent Chrysler Dodge Jeep RAM, are happy to show you what you need. From lifted trucks to durable off-road tires, we'll show you all the steps you should take before taking on the great outdoors.
Starting with a Good Foundation
Out of all the components that make up a great off-road vehicle, the tires that support the vehicle are possibly the most important. You can compare the tires on your vehicle to the shoes you wear. You wouldn't go out on a strenuous hike in flip flops, would you? Well, neither should you go off-roading in a set of tires that are only designed for street and pavement driving. Sure, you can take street tires on some light trails, but we certainly don't recommend it. While you may be able to reach the end of a trailhead in a set of street tires, you can run an increased risk of getting a flat. And getting a flat tire out in the wilderness can be something of a nightmare scenario, especially if you do so in a truly remote edge of the wilderness.
For this reason, we always recommend that if you're going to take on the trail, you should install a set of off-road-ready tires. Off-road or all-terrain tires, are far more durable than street tires and can withstand the beating even a difficult trail can inflict. At the same time, off-road tires tend to have deeper treads, which in turn provide greater traction across a variety of terrains. It is difficult to predict what road conditions will be out in the wilderness, and with off-road tires, you can avoid finding yourself stuck in a ditch or tricky patch of mud or snow.
Drivetrain is Everything
Whether you're sat behind the wheel of a lifted truck or a fully equipped Jeep Wrangler,  having the right drivetrain is incredibly important. But what is the right drivetrain? Well, for starters, your drivetrain is the system that provides power to your wheels. A typical street car will have a front-wheel-drive or rear-wheel-drive drivetrain, meaning that power is provided to the front or rear wheels. When off-roading, it is great to have a drivetrain that provides power to all four independently.
There are two drivetrain types that provide power to all four wheels, AWD and 4WD. While these two drivetrain types are very different from each other, they both do an excellent job at providing greater capability while on the trail. Having a drivetrain that provides power to all four wheels can serve quite useful in a variety of situations. For one, if you find that one tire is jammed up under a rock, or stuck in a pit of mud, the other tires can still move and compensate for the halted wheel. These drivetrains allow your ideal off-road SUV or lifted truck to take on the varying terrain of the trail much easier than a FWD (front-wheel-drive) or RWD (rear-wheel-drive) the drivetrain may allow.

Lifted Trucks and SUVs
When it comes to off-roading, the higher off the ground, the better. This distance between the underside of your vehicle and the ground is called ground clearance, and it can make all the difference between a great off-road experience and finding yourself stuck out in the wilderness. A vehicle with greater ground clearance can better avoid bottoming out and scraping their undercarriage. If you go off-roading in a vehicle that has a minimal amount of ground clearance, you can risk damaging one of the many complex components tucked beneath your vehicle. As such, we always recommend that if you don't own a lifted truck or SUV, that you invest in a suspension lift kit which can provide that much-needed boost to ground clearance.
Additional Odds and Ends
Beyond the aforementioned big pieces of equipment, there are a wide variety of additional odds and ends that could improve your off-road capability. For instance, skid plates serve as an extra barrier of protection for your undercarriage. You can think of a skid plate as a layer of armor, that can protect those sensitive components underneath your car. Some of these essential components that you'd be protecting include your radiator, engine pan, and drivetrain. Skid plates are a great choice for drivers who are hoping to take their off-road trekker onto some particularly rigorous trails.
Alternatively, if you're off-roading in a wet part of the world, a well-placed exhaust snorkel can be a significant addition to your vehicle. Water can kill an engine, and if you pass through a particularly deep body of water, may end up ruining your entire vehicle. Even the most well-equipped lifted truck can literally become dead in the water if it doesn't have a snorkel attached. With an exhaust snorkel, you can keep your engine dry and trek through some of the wettest trails.
Even off-road vehicles that are prepared for every possibility can find themselves stuck in the mud with no way out. In these cases, installing a winch might help you out of these sticky situations. A winch can also help other drivers who may have found themselves in a similar situation.
Of course, the number one thing we recommend all off-road adventurers purchase is a survival kit. Why do you need a survival kit? Well, as we've mentioned throughout this post, you can't predict what'll happen on the trail. A survival kit is essentially everything you'd need in a nightmare scenario. While these kits can include anything, typically, it is worthwhile to pack plenty of non-perishable foods, extra water, flares, and maybe even a tent and sleeping bag if you have to stay the night on the trail.
Making Your Vehicle Off-Road Ready at Frank Kent CDJR
No matter if you're new to the sport, or are a weathered veteran our team at Frank Kent Chrysler Dodge Jeep RAM in Ennis, Texas, can provide you with everything you need to take on the great outdoors. It is also important to note that we offer a wide selection of vehicles from the industry's top manufacturers that are ready to be taken onto the pavement right off of the lot. Apart from new vehicles that are ready for the trail, we can also provide and install the parts and components that can turn your vehicle into something that is ready for everything nature can throw at it. Off-roading is a thrilling experience, but any veteran will tell you, it is always better to have an auto expert prepare you for your trek before you embark.