Find the Perfect truck for You at a RAM Dealership, Forth Worth!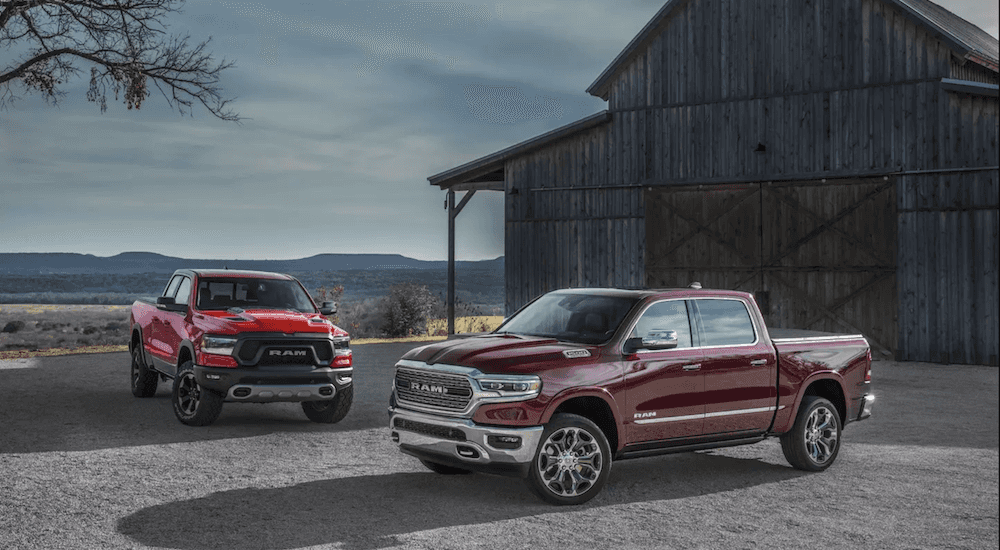 The first factory manufactured pickup truck hit the American marketplace in 1925. This Ford Model T pickup revolutionized the country and made life easier for many Americans. Trucks where important for transporting goods, improving travel, which used to take all day, and helped the 35 percent of Americans who lived and worked on farms. With the advent of the pickup truck, towing and hauling became easier and their workdays were lengthened due to headlights. Nearly 100 years later you can find a truck from a number of brands but you'll love what RAM has come up with this year. So if you're looking for the perfect truck for your towing and hauling needs you can find one at your RAM dealership near Fort Worth, Frank Kent CDJR.
Consider These RAM Vehicles
2019 RAM 1500
The starting MSRP for the 2019 RAM 1500 Crew Cab is $31,795. This model truck was selected by the voting board at MotorTrend and the 2019 Truck of the Year since it is a "new breed of vehicle" that delivers in four areas: luxury, capability, strength, and technology. If you want a truck with a sleek new look that offers superior performance, then this new 2019 model is perfect for you. This 2019 model has improved efficiency and superior towing and hauling capacity. The truck has six trims, the Limited, Laramie Longhorn Edition, Rebel, Laramie, Bighorn, and Tradesman. The 2019 also features technology compatible with all Apple devices and you can get up to six months of Apple music for free. Own the road and off-road travels in style with this exciting new RAM truck.
2019 RAM 1500 Classic
If you want the classic look of a powerful truck delivering on durability and performance, then the 2019 RAM 1500 Classic should be your next vehicle. The starting MSRP for the 1500 Classic Crew Cab truck is $27,395. You have three trim options such as the Tradesman, Express, or Big Horn to choose from. This truck delivers 395 horsepower and 420 lb.-ft of torque. You'll benefit from a 1,920-pound maximum gas payload capacity and can tow up to a maximum 10,710 pounds so it's sure to be able to handle most challenges.
2018 RAM 2500
The Texas Auto Writers Association gave the 2018 RAM 2500 the award for "Best Heavy-Duty Pickup Truck of Texas." This impressive truck has a starting MSRP of $33,045 and can get your hauling done with ease since this truck has a towing capacity of up to 16,320 pounds. Though the diesel model's maximum towing capacity is up to 17,980 pounds. RAM is proud to manufacture "America's longest-lasting heavy-duty pickups." You won't have a dull ride when you can stream over 50 million songs on all compatible Apple devices with an integrated entertainment system that is compatible with Apple Music. There are various trims you can choose from like the Tradesman, SLT, Bighorn, Laramie, Laramie Longhorn, Power Wagon, and Limited. These trims are available in gas or diesel and feature the well-known 6.7L Cummins Turbo Diesel engine and heavy-duty 6.4L HEMI V8 engine.
2018 RAM 3500
The 2018 RAM 3500 has been awarded the "Best Resale Value" in the industry. That is a great indication of how well this truck will perform for you while you own it and if you ever decide to sell it. The truck has a starting MSRP of $34,445 and with the available fifth-wheel towing, you'll benefit from a 30,000-pound towing capacity, or a 31,210-pound towing capacity with the diesel engine. The maximum gas payload is 7,350 pounds and delivers 410 horsepower and 930 lb.-ft. maximum diesel torque. There are several trim options to choose from like the Tradesman, SLT, Big Horn, Laramie, Laramie Longhorn, and the Limited.
2018 RAM 3500 Chassis Cab
The 2018 RAM 3500 Chassis Cab was designed to deliver unmatched rear frame steel strength of 50,000 PSI. The starting MSRP for this truck is $34,345 and the gas engine oil change interval is best-in-class at 10,000 miles. The RAM Chassis Cab is perfect if you will be doing a lot of hauling and towing. It comes with two engine options, you can choose the 6.7L Cummins turbo diesel inline 6-cylinder engine or the commercial grade 6.4L HEMI V8 engine that features innovative fuel saver technology. You can get this truck with two different six-speed automatic transmission options or a six-speed manual transmission option.
2018 RAM 4500 Chassis Cab
The 2018 RAM 4500 Chassis Cab has an impressive maximum gross combined weight rating (GCWR) of 33,500 pounds and delivers 366 horsepower which is higher than the horsepower for its competitor, the 2018 Ford F-450 Chassis. You'll get 25,650 pounds of maximum towing capacity in this RAM 4500 and 8,800 pounds payload capacity. You'll also space out the oil changes since the diesel oil-change interval for the 4500 is 15,000 miles as compared to the F-450 competitor at 10,000 miles. The 4500 has a massive 52 gallon fuel tank which will keep you away from the pumps longer as well. The starting MSRP is $38,295 and you have three trim options to choose from like the Tradesman, SLT, and Laramie. This truck delivers high-performance power with the 6.4 L V8 engine or legendary 6.7L Cummins turbo diesel inline 6-cylinder engine.
2018 RAM 5500 Chassis Cab
The starting MSRP for the 2018 RAM 5500 Chassis Cab is $39,595. This truck delivers up to 28,760 pounds of towing capacity and features a superior quality 6.4L V8 heavy-duty HEMI engine. This truck has three trim options such as the Tradesman, SLT, and Laramie. The truck has a roomy interior that was designed to seat up to five people so you'll have no problem hauling around the crew. This 5500 can handle the toughest towing jobs with a maximum capacity of up to 38,500 pounds.
2019 RAM ProMaster
The ProMaster is a commercial work van, but still something you'll see cruising around the Fort Worth area. It's included on this list since it is a high-quality 3500 Cargo Van that offers the best-in-class cargo height of 65.4-inches and helps Texans get to where they need to go. The starting MSRP is $30,345. The low load floor height is 21-inches and it delivers superior traction and mobility in all types of loading situations. You can easily maneuver this van when driving in the city, on the highway, at worksites, or by loading docks. You have various trims to consider with the RAM ProMaster. There is the option for the Cargo Van, the Chassis Cab, or the Cutaway Van. Let your company's personality show when choosing the exterior paint for this van as there are plenty to choose from.
2019 RAM ProMaster City
If you need a van that has a sleek look and excellent performance value, then the 2018 RAM ProMaster City van is ideal for you or your business. This efficient work van has a starting MSRP of $24,195 and provides over 130 cubic feet of cargo capacity. You can transport a payload of up to 1,885 pounds in this van. The van delivers 178 horsepower and 174 lb.-ft. of torque and you can use the van to tow a maximum capacity of up to 2,000 pounds. This van comes in various trims like the Tradesman Cargo Van, Tradesman SLT Cargo Van, Wagon, and Wagon SLT. You'll love the exterior paint colors that are available, as there are 7 to choose from.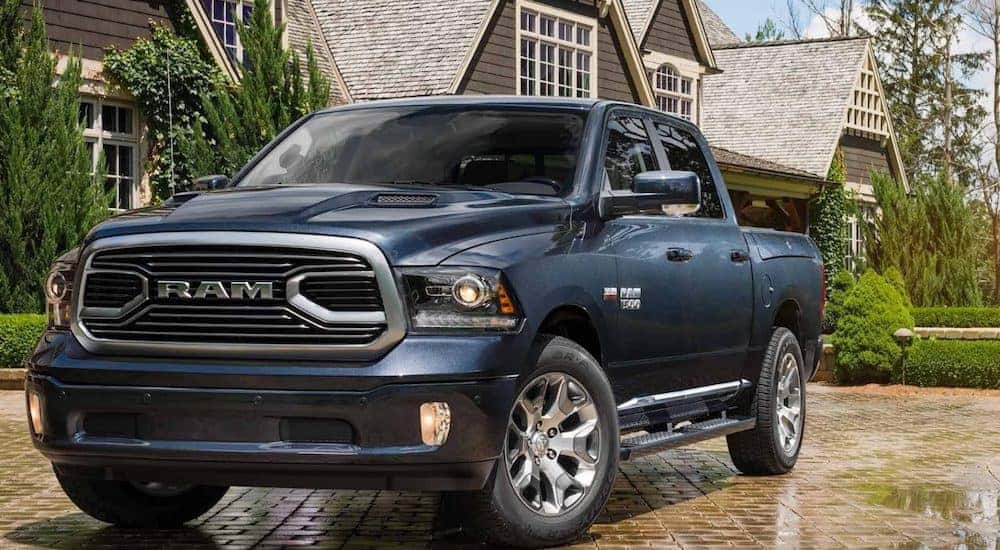 Frank Kent Chrysler Dodge Jeep Ram – Your RAM dealership, Fort Worth!
Enhance your daily commute and improve your hauling and towing experiences by driving one of these reliable RAM vehicles. You'll drive off the lot of your favorite RAM dealership near Fort Worth with a high-quality truck that will deliver superior performance and long-lasting value for your current driving needs. So make the short drive to Ennis, TX to Frank Kent CDJR and take a look at any of these great RAM trucks and vans and see how they can help you tackle any challenge.