A Step-by-Step Guide to Purchasing the Best Vehicle at Your Local Jeep Dealership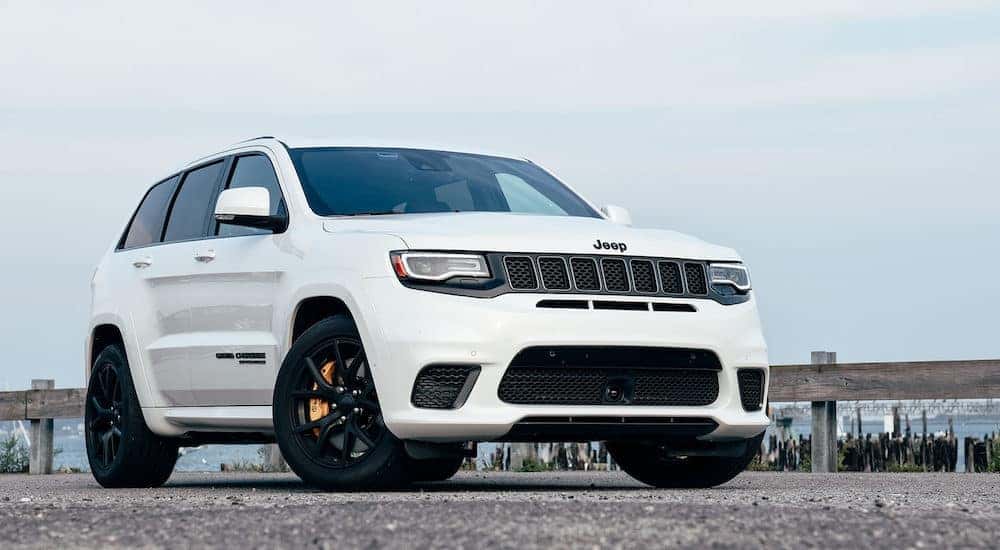 At Frank Kent CDJR, we pride ourselves on our diverse inventory from the best All-American brands: Chrysler, Dodge, Jeep, and Ram. If you're a Jeep fan and enjoy the iconic style and aesthetic of the Jeep chassis, or the four-wheel drive and superb performance handling of the Ram 1500, or you just want to be a proud Chrysler owner and drive around in style, you've come to the right place. We know that arriving at your local Jeep Dealership can cause some undue stress. Having the know-how and coming armed with the details of the vehicle you want to buy beforehand can make the buying process a whole lot easier. We'll give you our best tips before you arrive on our lot, so you can come in knowing the facts about your next vehicle and with the confidence that you've been placed in good hands.
Cost
Cost is always important, and knowing your budget before arriving at the Jeep dealership is probably the number one most important factor when buying a vehicle. You want to know the maximum you're willing to spend and keep in mind the monthly payments you'll make after you purchase the vehicle, such as insurance payments or monthly financial loan payments. Those are all factors to keep in mind when drawing your budget. The rule of thumb is to no more than 20% of your monthly income on auto payments, which you should keep in mind on-top of what you're paying at the dealer. This can help narrow your search and make the buying process more fruitful, expedient, and transparent.
Brand
Knowing the brand, you want to buy before you arrive at your local Jeep dealership is the next most important factor when you're considering buying a new vehicle. Of course, at Frank Kent CDJR, we're happy to help any customers, even if it's just to browse and get a good idea of the variety we have on offer. But if you're serious about buying a vehicle and interested in leaving the same-day with your purchase, knowing the brand can be helpful in making the search easygoing and stress-free.
At Frank Kent CDJR, we have a number of brands available ranging from Jeep, Dodge, Chrysler, and Ram. Narrowing down the brand can be helpful so that you can focus your search on just a few particular models. When thinking about brand, it's best to keep utility in mind. Of course, style and appearance are important, but if you're looking for a family car for trips and school drop-offs, it may be best to pick a spacious SUV rather than a truck. If you do happen to be looking for a car that's more spacious, Jeep and Dodge are probably the best brands to research as we have a number of models with spacious seating and plenty of cargo room for long journeys. If you're looking for a truck for work or a vehicle that can haul a large payload, Ram is an excellent way to go. We have a variety of trucks to choose from like the Ram 1500 to the Ram 3500 Tradesman. If you're looking for a flashy car that you can show off around town, Chrysler has some sporty sedans to get the job done, and also includes some environmentally-friendly hybrid options.
Model
Once you've narrowed down the brand, cost, and eliminated extraneous options, you can really focus and choose a vehicle that's going to be the perfect fit for you. Size and utility is still important, so if you've narrowed your brands to Jeep and Dodge and are looking for a spacious SUV, we'd recommend the Jeep Cherokee or the Dodge Grand Caravan from our line-up. We have many of these models on offer, and they possess spacious seating, plenty of cargo room, and some of the latest safety features. The Jeep Grand Cherokee Laredo has been a popular buy at Jeep Dealerships, and this is an excellent vehicle for those looking for a family car that also has sport utility.
If trucks are more your style, and you've decided to focus your search on Ram, the Ram 1500 Laramie Crew Cab is an excellent vehicle we have available now, which has some high-tech features like trailer sway control, HD shock absorbers, and electronic power steering assist. This is a great vehicle for work, and we advise anyone looking at a particular model to view our webpage and get all the details regarding the specs, performance, and exterior and interior features of the vehicle – all conveniently listed on our site.
New vs. Used
Having a decision in mind if you want to buy used or new is always a good idea before you arrive at your local Jeep dealership. This will align with cost, as newer vehicles will inevitably cost more, and referencing your budget to see if a new vehicle is something you can afford is a good step. Conveniently, at Frank Kent CDJR, we always list the MSRP price next to our vehicles, and can occasionally offer dealer discounts and bonus cash, which are some of the excellent customer service benefits we provide.
In addition, when making your decision to buy used or new, it's important to keep in mind that new vehicles will most likely have the latest in safety and technology features, so if those are important to you, buying new may be a good option. However, used vehicles can be equally opportune, on our lot we have a number of used vehicles that are newer and with low miles that will be cheaper than brand-new models. Ultimately, this is up to customer preference and both used and new have their benefits.
Conclusion
All in all, before you make the big decision to purchase a vehicle, Frank Kent CDJR recommends keeping these few steps in mind before you show up to your Jeep dealership. Having some of these decisions already made can help expedite the buying process and make the vehicles you view the best and most ideal vehicles to match exactly what you're looking for. So, if you want any more tips or have any more questions, stop in at Frank Kent CDJR or chat on our website with one of our knowledgeable staff, we're always happy to help!