9 Things to Consider When Shopping for a Used Jeep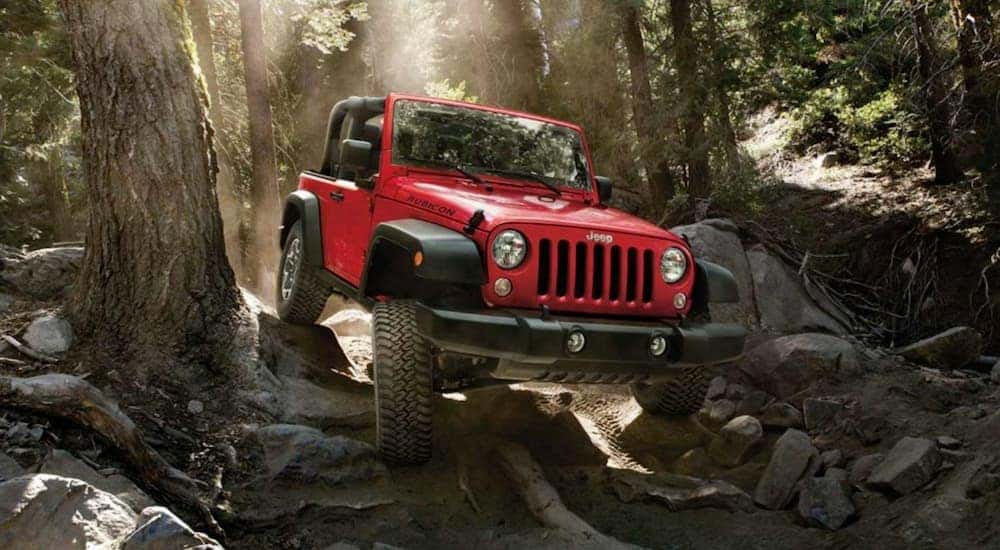 Choosing to purchase a used model is a great way to save money and still get an excellent vehicle that will give you lots of years of reliable service. With that in mind, however, a used vehicle does come with a certain amount of uncertainty, since you can't say for sure what that vehicle has been through before you found it. While choosing to buy a used model from a dealership is a great way to ensure high quality, there are still some things you should keep in mind when looking at any used Jeep Wrangler for sale.
Some of these are fairly common sense, but the car-buying process can be so complicated that they become easy to overlook. A Vehicle History Report can help you with some of these things, but just remember that not seeing something on a report doesn't mean it never happened, so always look beyond what's there. At the end of the day, take your time and make a careful, informed decision when shopping used Jeep Wranglers or any other vehicles.
#1 – Overall Condition
A good place to start when first looking at any used Jeep Wrangler for sale is the overall condition of the vehicle. Basically, do a simple visual inspection and look at the details and the overall appearance of the vehicle. Look for damage or wear and tear to the outer body of the Jeep and anything else that you might find just by looking at it.
Don't simply look at the color and other basic options to see if they would work for you – look at its condition. Start with an overall approach and then begin focusing on details and finer aspects of the vehicle. You might see some issues right away just with a cursory glance that can save you time looking into a vehicle that is not right for you or that is damaged.
#2 – Undercarriage Condition
Once you have given the entire vehicle a good look, then check the underside of any used Jeep Wrangler for sale that you're interested in. Yes, this means you'll need to get down on the ground, and you might feel a little foolish, but this is very important. Jeep Wranglers are often sought for their great off-road functionality, and going off-road can be very hard on the undercarriage of a vehicle.
Look for damage to the underside of the Wrangler and make sure factory skid plates are still there and in pretty good condition. If the skid plates have some minor wear and dings on them, that's not a big deal – it's their job to take the abuse for the underside of the mechanical systems after all. But any major damage can be a big warning sign that the mechanical components were also beaten up.
#3 – Suspension and Tires
While you're getting down and dirty with a used Jeep Wrangler for sale, also check out its suspension and tires. Look at the condition of the springs and other components of the suspension, as well as the brakes. It's a used vehicle, so some wear is to be expected, but everything should still be in pretty good condition overall. You should also check the tires to see what condition they're in – balding tires that don't have much time left on them are an unneeded expense for you, so insist on new or almost-new tires when buying a used vehicle.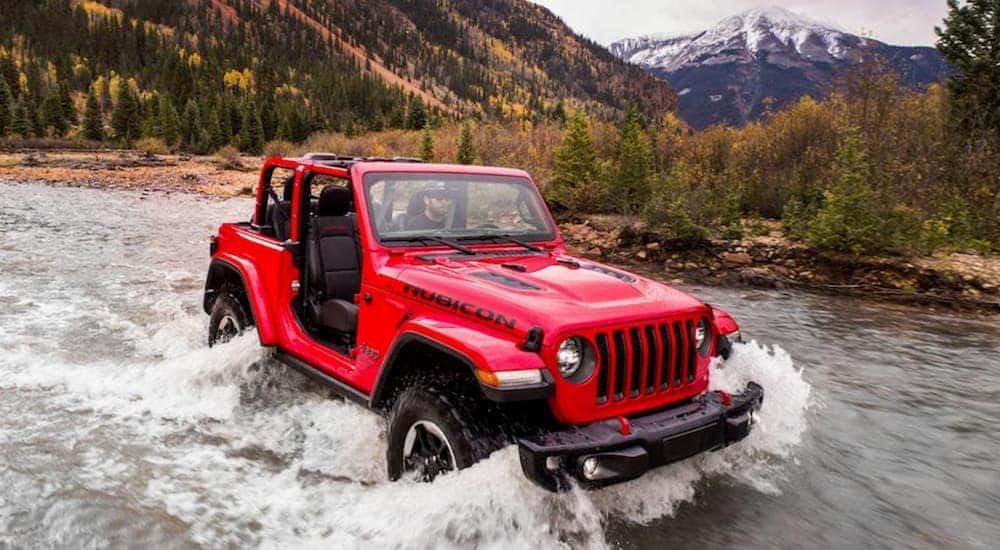 #4 – Other Mechanical Systems
Once you have given the first few items a good look, then pop open the hood and check out the engine and other mechanical systems. Insist that the vehicle not be on when you check it out and then have them start it. Listen to how the engine sounds when they start it and make sure there's no sound of strain or difficulty getting it started. You can check the oil and other fluid levels too – a good dealer will offer used Jeep Wranglers for sale in the best condition and level of upkeep.
#5 – Electrical Systems
This can be harder for you to check out on your own, but make an effort to check all of the electrical systems as best you can. Turn on the lights and walk around the vehicle to make sure they all work. Get inside and turn on air conditioning, the radio, and other systems to see that everything is in good working order. While you take a used Jeep Wrangler for sale on a test drive, use the blinkers and try out everything else to make sure it all works – and pay attention to lights and other features that should come on.
#6 – The Age of the Vehicle
Always keep in mind the model year of any used Jeep Wrangler for sale that you're interested in. Older vehicles have often had more wear and tear on them, which makes sense. Newer models not only have less wear but typically have more modern features too. Look for a model from within the last decade, at most, to ensure you get the best mechanical systems and some modern features to stay safer and more comfortable on the road.
#7 – Modifications to the Jeep Wrangler
A lot of Jeep owners really get into modifying their vehicles to customize their ride and create a better off-road experience. These kinds of modifications can be great and improve the experience as a driver, but they have to be installed and maintained properly. Find out about any aftermarket additions or modifications and make sure they were installed by experienced professionals and that they are still in excellent condition. The last thing you want is something unnecessary that will create unexpected costs for you after you buy a used Jeep Wrangler.
#8 – Signs of Leaks
Fluid leaks from a vehicle can be quite common and are often easy and inexpensive to repair, but that shouldn't be your problem. Look for any possible signs of fluid leaks, especially under a used Jeep Wrangler for sale that you might want to buy. Check for stains on the ground when you do an initial inspection as well as a little while later – just in case they recently moved the vehicle when you first look. If you do see signs of any kind of leak, insist that repairs or part replacements be made to fix the leak before you agree to any purchase.
#9 – Signs of Rust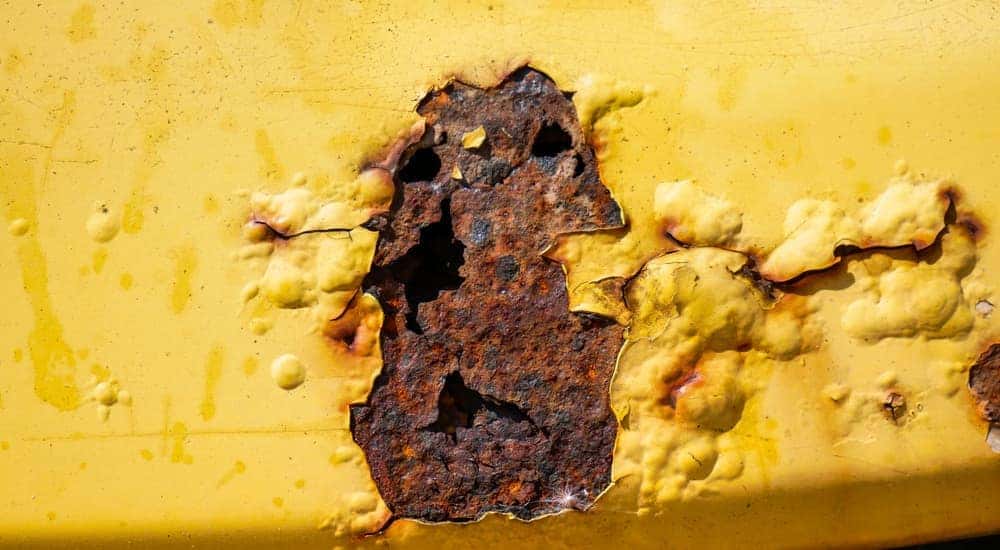 Don't let the fact that this is at the end of this list fool you: this is a very important thing to consider when looking at any Jeep Wrangler for sale. Rust is something that can be quite insidious and cause serious problems for your vehicle in the long-run. While a little bit of rust discoloration can be pretty common when looking at used vehicles, any serious rust damage is a sign that you should keep looking.
Minor rust and discoloration are usually pretty easy to handle, and you should discuss these signs of rust with a dealer or seller when coming to an agreement. Pitting and other physical damage from rust is often much more difficult to deal with and usually requires replacing a rusted component. Not only will this be an added expense for you in the long-run, but could also indicate additional rust damage that you might not be able to see during your inspection. You should definitely look for vehicles with no rust or only minor discoloration, and take that into account when deciding on the terms of your purchase.
At Frank Kent CDJR
At Frank Kent CDJR, we offer a wide selection of new, used, and Certified Pre-Owned models. We are committed to providing you with the best dealership experience, which is why we have haggle-free pricing, a great financing team, and a fantastic service center. Our Certified Pre-Owned models come with our own two year / 100,000 mile limited warranty. When you are ready for your next used car, truck, or SUV, visit us in Ennis, Texas!