5 Reasons a Used Wrangler Might Be Perfect for You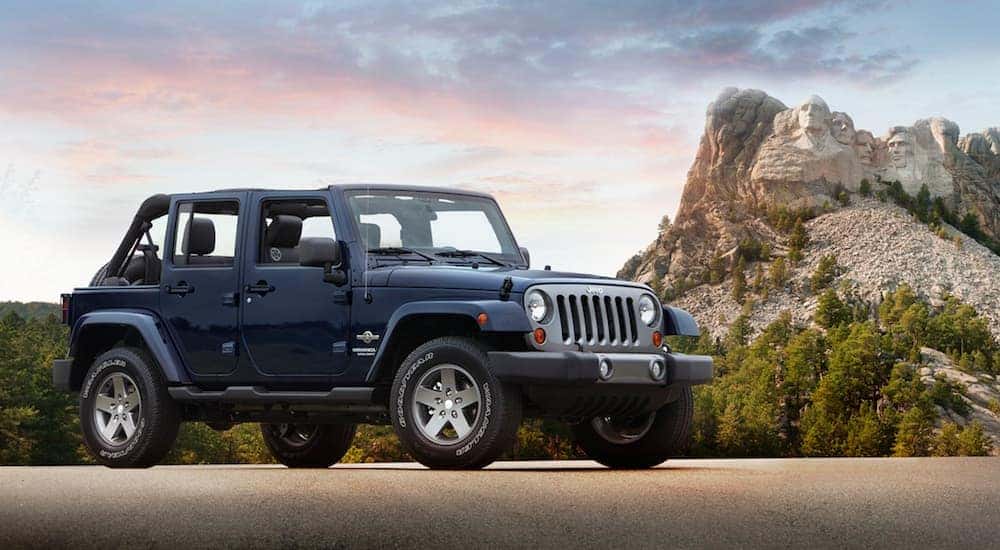 It's that time of year again, when countless drivers with a little money to burn go in search of a used Jeep Wrangler for sale in the hopes of embracing open-air activities during the warmer months. You can't drive more than a couple of minutes without catching a glimpse of either an all-season warrior having just taken their top down or some aspiring noob roadside, walking around a private sale, contemplating the trail runs to come.
And while a weathered JK might not rest atop the wish list of every off-road adventurer, it would be hard to argue how interlocked the ideas of trail-riding, rock-crawling and the visuals of a muddied Wrangler have become. Of course, there's the mall-crawlers, as well…but that's a conversation for another place and time (we'll withhold judgment for now…)
The widespread popularity of the Wrangler spreads far and wide regardless of seasonality. 2018 brought record sales for JK and JL alike, with demand nearly tripling the average inventory levels maintained by most dealerships. In fact, it was the (dare we say) surprising popularity of the latter that left a substantial number of recent model year JK's ripe for the picking, incentivized with lower price tags. And loyalty being what it is, hordes of Jeepers were rushing dealerships with their trade-ins, inundating dealers' lots with an influx of pre-owned inventory that would be ready to move come 2019.
So, if you're thinking of picking one up for yourself, there's a pretty high likelihood that you'll find exactly what you're looking for. And with that in mind, let's look at a proverbial handful of reasons why that used Wrangler you have your eyes on might be perfect for you.
5. Evading Depreciation
The decision to purchase any pre-owned vehicle benefits from the principles of depreciation. Bottom-line, the majority of a vehicle's loss in perceived value occurs within its first five years of ownership. In fact, most vehicles are only worth about 47% of the original MSRP by the end of its fifth year. And while that may not work in the favor the original owner, who now gets a lackluster return on their original investment, it makes it more affordable for the 'next guy' when its put up for resale.
A Wrangler, however, is a curious beast in this regard. The Jeep brand, as a whole, has been known to depreciate at a slower rate than other automaker offerings, with the Wrangler serving as the ideal representation of bragging rights. In fact, a Wrangler is likely to have retained up to 70% of its value over 36-months, compared to most cars which would only hold onto about 50-55%.
The Wrangler's slower rate of depreciation can be attributed to a few factors. First, Jeep manufactures a more modest number of Wranglers per annum, when compared to the output of other automakers. By side-stepping the risk of over-saturation, the individual value of the models produced is protected. Second, is the fact that (despite criticism levied by the uninformed) Jeep prices the Wrangler timely and appropriately based on the state of the market.
And while slowed depreciation may not help to drop the price tag on the second-hand Jeep that you're currently considering, it stands as a reason you can feel good about the long-term return on your investment. It also segues into the next topic, which also serves as another factor in battling depreciation.
4. Mod-Readiness
Let's talk about the aftermarket industry for a minute…
Expected to reach $519 Billion by 2026, the automotive aftermarket industry is immense, multi-tiered and one of the most significant employers in the world. From tires and wheels, to suspension enhancements, exhaust modifications, lighting and cosmetic enhancements, there is no shortage of options for owners to make any vehicle their own. But few segments of consumers are more committed to mods than the Jeep community.
But an important distinction comes in the fact that the lion's share of Jeep mods serve to improve their specialized functionality and overall capabilities. Sure, you'll find your fair share of cosmetic personalization (which also helps them to retain value) but a true Jeeper views a stock Wrangler as a blank slate, ready to be enhanced with performance in mind.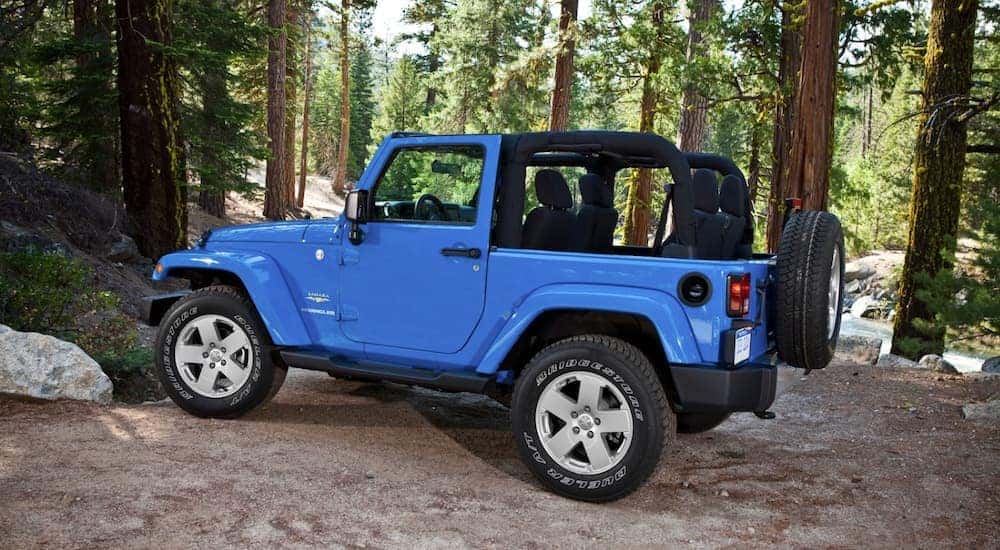 3. Community Reinforcement
An outsider might mock a 'Jeep Wave' or laugh at the suggestion that 'they wouldn't understand because it's a Jeep Thing', but there's little arguing the strength, intensity or collaborative nature of the Wrangler community.
Equal parts inclusive and exclusive, the Jeep community is a paradox — both welcoming and constructively critical. And it's that mix of sentiment that tends to fuel its members to engage in healthy competition, be it in terms of modification or real-world performance. The former only serves to enhance their vehicle's valuation, the latter only serves to enhance the appeal of the Jeep lifestyle.
2. Rock -or- Mall-Crawling
Okay, we said weren't going to give the latter any time in this article but what can I say? It's happening. What I won't do is glamorize or patronize it, opting simply to point out that the Jeep community has a place for both rock candy and eye candy. So whether you fancy yourself a thrill-seeking overlander, or simply appreciate Jeep mods for the visual feast they can be…there's a trail or parking lot with a place for you in it.
1. Conquering the Beaten (and Unbeaten) Path
But if you're looking to do more than just plant yourself between two white lines, there's really no way to diminish the appeal of open-air off-roading. More than just winch-pulls out of yard-deep mud pits, or aired-down approaches to a verticle climb, a Wrangler provides a welcome opportunity to escape the soulless monotony of screens, WiFi connections and indoors responsibilities and enjoy the natural beauty that life pulls us away from.
From the trails of New England, to the plains in Texas, to the hills of Colorado, the U.S. is fortunate enough to boast some of the most diverse, and captivating landscapes in the world. And while there's plenty of ways to take it in, like hiking and biking, you'll need a versatile vehicle to get you to some of those places less traveled. So, even if you're looking to explore the country on two wheels or two feet, a 4×4 vehicle is key in getting you to where you want to be.
Is a Used Wrangler Right For You?
Only you can decide for yourself (we're just here to lay out the arguments in favor of it). Not only is there a whole world out there, demanding to be explored, but there's a whole community out there ready to welcome you aboard. When you're ready to take that step and start shopping for a used Jeep Wrangler for sale you will want to check out Frank Kent Chrysler Dodge Jeep Ram. From our excellent selection of used Jeeps to our knowledgeable and professional staff you are sure to have a great experience at Frank Kent and will be hitting the trails, modifying or simply enjoying waving to fellow Jeep owners in no time.
Don't be intimidated. Every Jeeper starts somewhere and there are endless resources to help you along the way. But don't wait too long. The spring months are already ticking away, and those long summer days and nights are coming up fast. So get a shift on.